We're going hard with the updates as we quickly reach Q4 of 2023. Seems like only yesterday we kicked off the year, and now we got autumn at our doorstep. You'd think the retro world had slowed down, but no, that'll never be us, lucky us! From a brand new title to a retro remaster to some sweet nostalgic accessories, this week is all about the old-school feels you never thought you'd want to get your hands on, so stick around for more and let's go!
We're looking at a brand new game for the Game Boy Advance that's available on modern consoles like the Nintendo Switch, your good old PC. But if you still have your original GBA intact, you'll be happy to know that Goodboy Galaxy will be very much playable in 2023. Goodboy Galaxy started as a Game Jam submission back in 2018 and is now looking like one of the most exciting Game Boy games in the current generation.
What players get is a platforming experience with a lot of running, jumping, shooting, and unique level designs that offer puzzle elements and a bunch of enemies to eliminate. But make no mistake, this is a true GBA game. Created for both original GBA hardware and modern systems. So, if you still own a Game Boy Advance, this will be an incredible addition to your collection.
Goodboy Galaxy will be available on the Steam Store and the Nintendo Switch Store. The physical editions are available for pre-order through First Press Games. Right now, there's a free demo available on Itch.io if you want to try it out. 
BLOCKBUSTER VHS NINTENDO SWITCH GAME CASE

We got a special surprise for the 80s and 90s kids because Retro Fighters just announced an actual Blockbuster VHS Nintendo Switch Game Case. This may look like an ancient relic to the Gen Z folk, but it's a sweet blast from the past for us. This comes fresh off the new Retro Limited series that focuses on a new line of nostalgia-based products and collectables. This is pretty cool, as only one physical Blockbuster store is still open, and it's located in Bend, Argon, USA.
Yes, Blockbuster's seen better days. So what you get is a slightly smaller but realistic model of an old-school VHS tape that houses your Nintendo Switch games snugly. It can store up to 12 Nintendo Switch games and four memory cards. If you're interested, these Blockbuster Mini VHS cases will be available on the Retro Fighters website for just $19.99.
Pre-orders are ongoing, and the official launch is set for November 15, 2023. So if you don't want any late fees, best to check it out as soon as you can. 
90s kids are eating good this week because we have yet another nostalgia trip that bridges the gap between after-school video games and afternoon cartoons. Limited Run Games just announced a series of physical editions of Gargoyles Remastered set for release on Nintendo Switch, Xbox One, and PlayStation 4. This series features standard and collector's editions for the Nintendo Switch, Xbox One, and PlayStation 4 available from Limited Run Games, which is nice.
But of course, this only means we're getting collector's editions with all the bells, Whistles and collectables. The Gargoyles Remastered Collector's Edition includes a physical copy of the game, a special hinge-style box featuring the voice of Keith David, a limited edition Goliath action figure, a certificate of authenticity, and a whole lot more.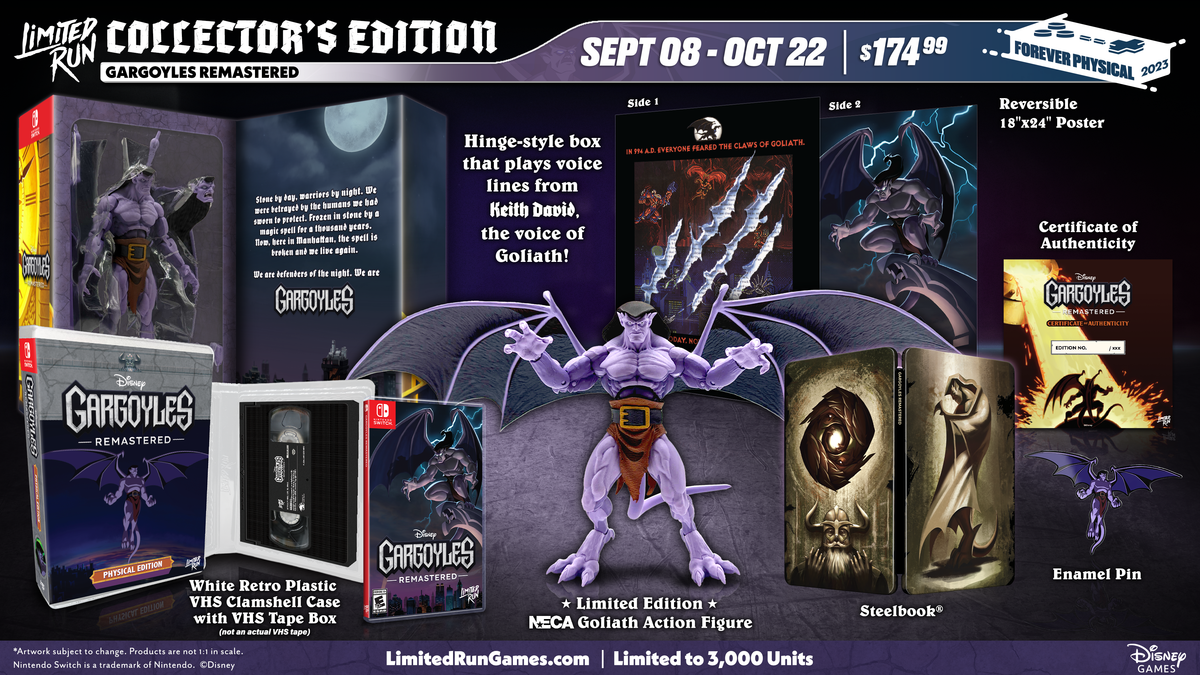 We'll also get a special re-release of the Genesis Standard and Collector's Edition, both coming in unique game cartridges. If you're a Gargoyles aficionado, you definitely want these in your collection. The Gargoyles Remastered Physical Editions are currently on the Limited Run Games website with the Collector's Editions priced just under $175, Standard Editions just under $70, and the Collector's Sega Genesis Edition just under $100.
This is a limited edition pre-order, so best to check them out while you can. As for Digital, Gargoyles Remastered is set to release on October 19th for PC, Nintendo Switch, Xbox One, and PlayStation 4.
Check the Weekly Gaming News here:
Come play and talk with us on Discord and subscribe to our YouTube for more Retro Gaming News!